Young Living October Promo
October 2017
As we transition to cooler temperatures and shorter days, prepare for seasonal ailments before they get in the way of your most meaningful traditions. Gather with family and community surrounded by aromas like Nutmeg, Orange, Clove and Ginger that inspire deep reflection and heartwarming gratitude for life's simple blessings. Plus, blends like DiGize, En-R-Gee and Deep Relief will keep everyone feeling their best so they can focus on the people they care about most.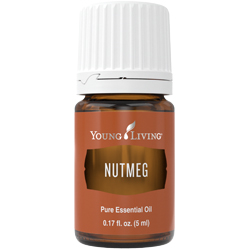 100 PV
Retail Value: $21.38 CAD
Nutmeg 5 ml (ER Bonus)*: Cozy up with loved ones and this warm, spicy aroma that energizes fall spirits and cultivates feelings of thanks. Nutmeg also has a long tradition of topical use to support seasonal aches and pains.
190 PV Reward
Retail Value: $92.76 CAD
Orange 15 ml: Set the tone of your next family gathering with the fresh scent of Orange. Its sweet aroma creates a relaxing environment when paired together with warm fall oils in the diffuser. It provides additional comfort after a big feast to help relieve symptoms of digestive discomfort.
DiGize 15 ml (ER Bonus)*: Whether you've just finished a treat or a feast with the whole family, enjoy the calming blend of DiGize to provide relief for an upset stomach so you'll always remember the meaningful moments you shared together.
250 PV Reward
Retail Value: $139.80 CAD
Clove 15 ml: This spicy fragrance adds warmth to any festive fall gathering. Fend off symptoms of cough and cold and feel your best despite seasonal ailments as temperatures start to cool.
Ginger 5 ml: Diffuse the energizing aroma of Ginger while prepping in the kitchen to uplift spirits. It can also be applied to the stomach after a big meal to ease digestive discomfort!
300 PV Reward
Retail Value: $233.55 CAD
En-R-Gee 15 ml: Pair this strengthening blend with your favourite sweater and wear it diluted on wrists and temples for an added boost of energy to power through your goals and favourite autumn activities.
Deep Relief 15 ml: You'll be thankful for Deep Relief with the abundance of family and community gatherings this season! Its energizing scent and cooling effect is the perfect pick-me-up to keep the festivities going!